Get to know the wines in your own backyard, be homeschooled on some of the best the Adelaide Hills Wine region has to offer, at our Haus.
Over 12 weeks you can pick and choose your classes and BRUSH UP on your wine education, whilst having fun and meeting new wine-loving friends.
Did you know there are about 300 winemakers and vignerons scattered across the Adelaide Hills?
Real people, working in small vineyards and artisanal wineries, hand-making wines with both personality and purity. There are more than 90 Adelaide Hills wine labels, 50+ cellar doors and hundreds of award-winning wines all making the Adelaide Hills region one of the most exciting in Australia.
At the Haus Restaurant, located in the heart of Hahndorf and the Adelaide Hills, we have a passion for showcasing local produce and are excited to be launching the first semester of the Adelaide Hills Wine Appreciation School.
Much more than a tasting, more than a masterclass, this is your chance to get up close and personal with some of the best wine people in the biz! Hear their stories, feel their passion, taste their creations, ask questions, participate in lively discussion, and leave each class knowing more about the fascinating subject of wine.
The Haus Group marketing manager, and wine lover, Mikyla Gilbert says "We're thrilled with the line-up and class schedule, so many great wines and stories to discover."
"The great thing is you can come every week for 12 weeks, pick and choose which classes piques your interest or if you're visiting the region you can add to your wine experience and attend one class whilst staying in the Hills."
Each week a different wine producer will be featured and take the class on a chosen subject.
The perfect Tuesday night out, at an affordable price!
SCROLL DOWN FOR ALL CLASSES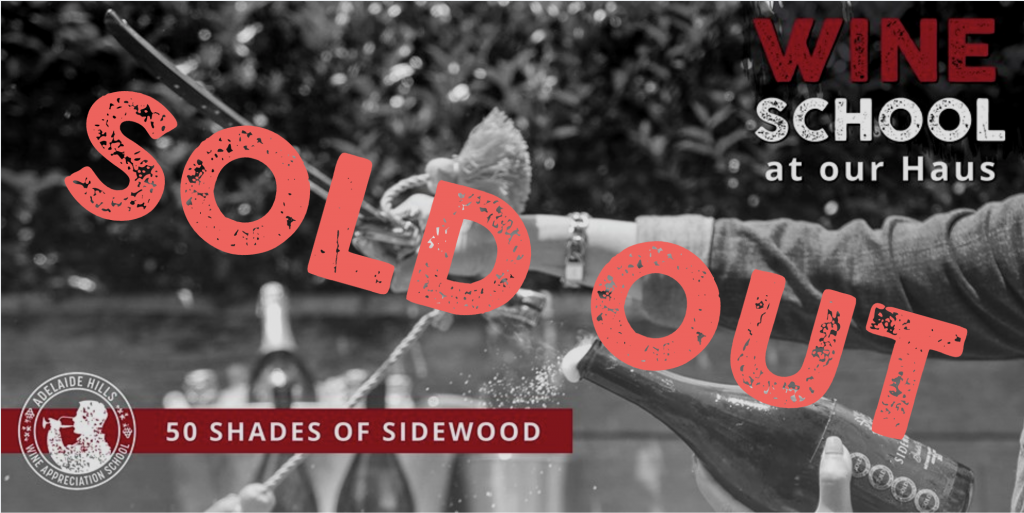 Tuesday 13 August – 50 SHADES OF SIDEWOOD

This was super fun and interactive class featuring sexy sabrage, and a Sidewood Estate 'blind tasting' session where we were blindfold the guests and get them to use their senses to pick the wine style.
Click here to view photos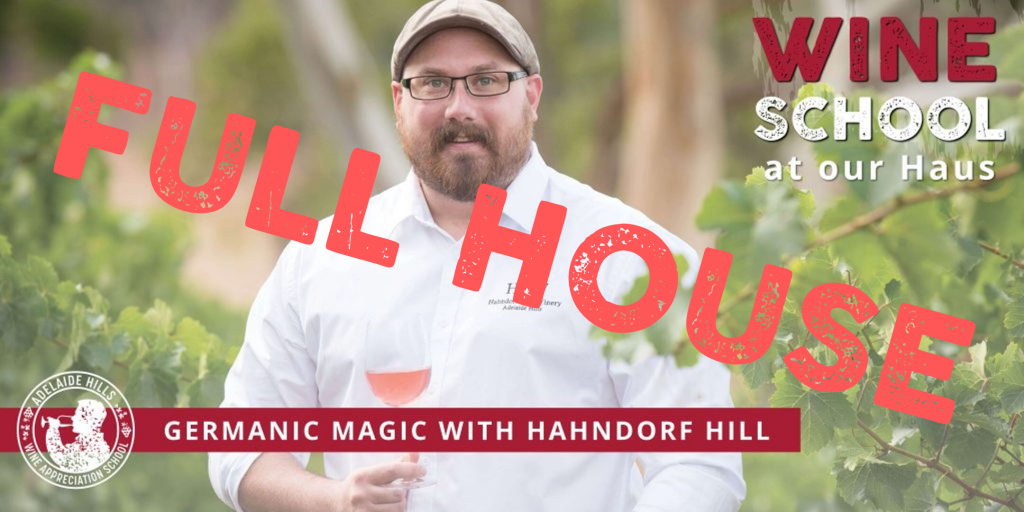 Tuesday 20 August – GERMANIC MAGIC WITH HAHNDORF HILL

Jack Simmonds shared his knowledge of European wines and the Hahndorf Hills Austrian varieties grown and produced right here in the Adelaide Hills. A fabulous class!
Click here to view photos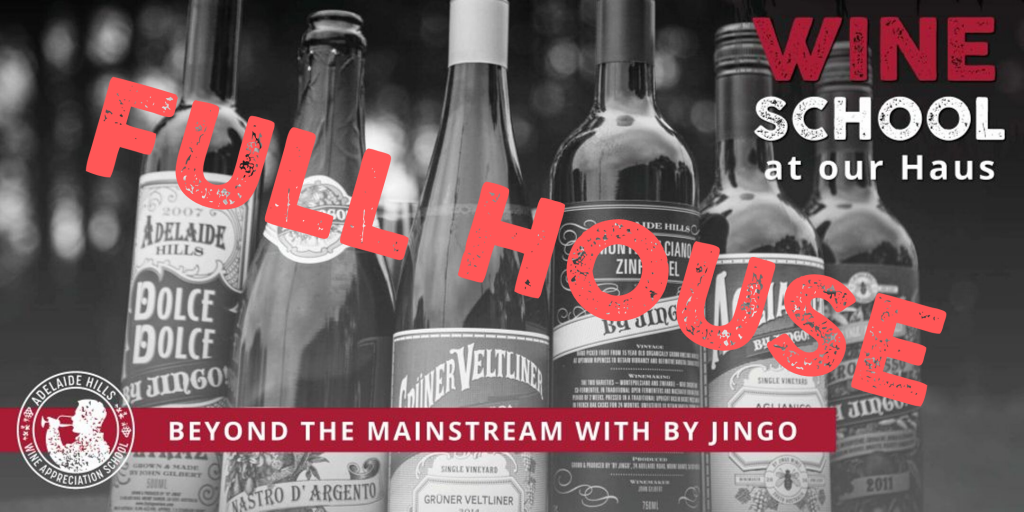 Tuesday 27 August – BEYOND THE MAINSTREAM WITH BY JINGO

Life is full of alternatives and Australia is home to an abundance of alternative wine varieties.
Winemaker John Gilbert shared his entertaining stories and obsession with these delicious, wicked and sometimes dirty cousins.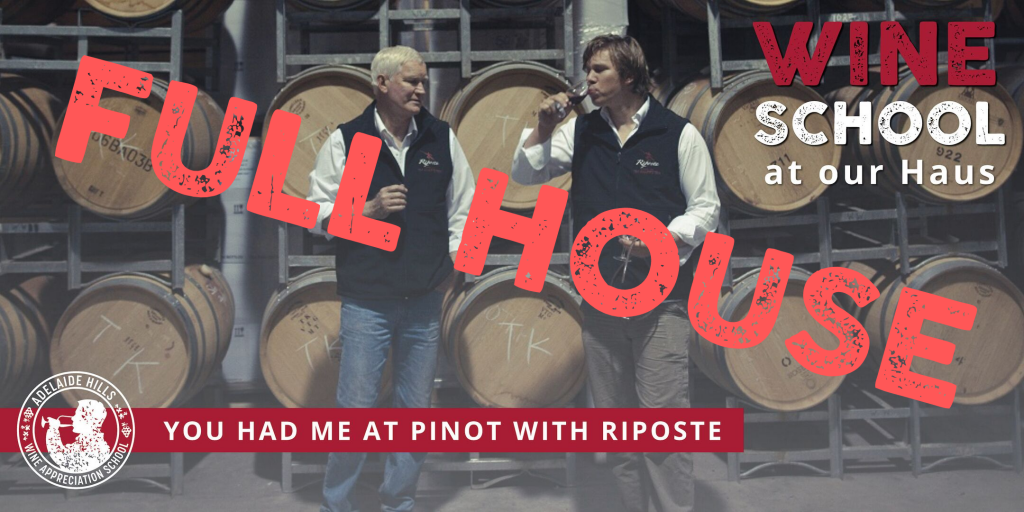 Tuesday 3 September – YOU HAD ME AT PINOT WITH RIPOSTE

Participants meet one of the forefathers of Adelaide Hills Pinot Noir and discovered why Pinot is so darn special with a cult following across the globe.
Tim  Knappstein hosted a masterclass on Piccadilly vs Lenswood Pinot clones discussing old oak vs new. WARNING: This class did contain amazing Pinot Noir.
Click here to view photos.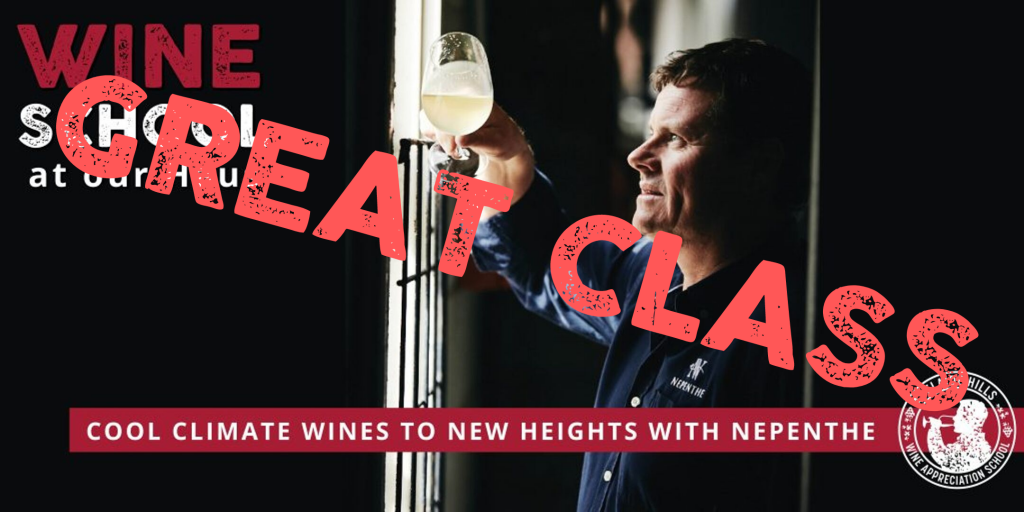 Tuesday 10 September – COOL CLIMATE WINES TO NEW HEIGHTS

Nepenthe winemaker, James Evers, took us through a journey of premium, award-winning wines that thrive in Australia's premier cool-climate region.
Guests sampled a range of top wines, including some rare cellar door exclusives which showcase the diversity and nuances of the Adelaide Hills.
Click here to view photos.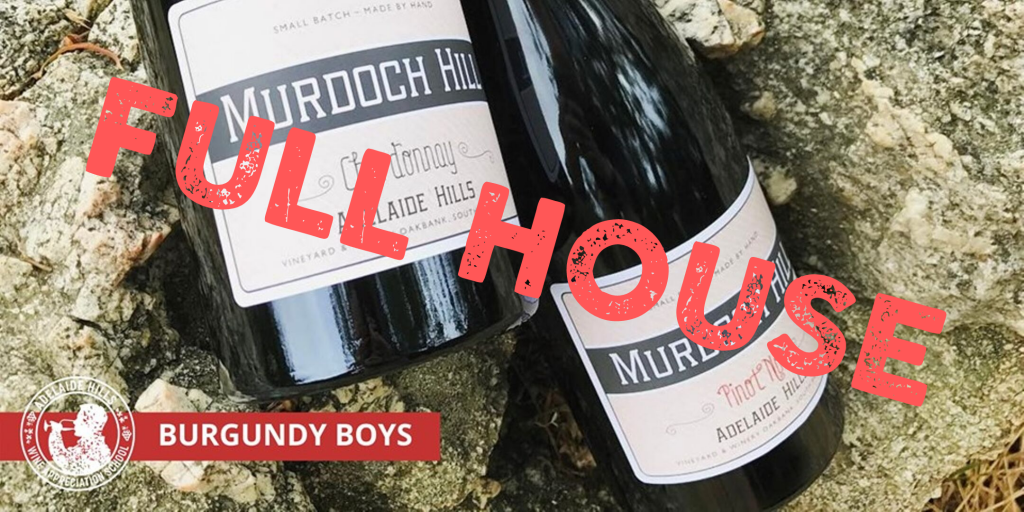 Tuesday 17 September – BURGUNDY BOYS FROM MURDOCH HILL

Michael Downer from Murdoch Hill brought to the yard – his favourite Chardonnay and Pinots and shared their knowledge and love of these two classics,
and much-loved wine varieties – two styles suited to cool-climate viticulture.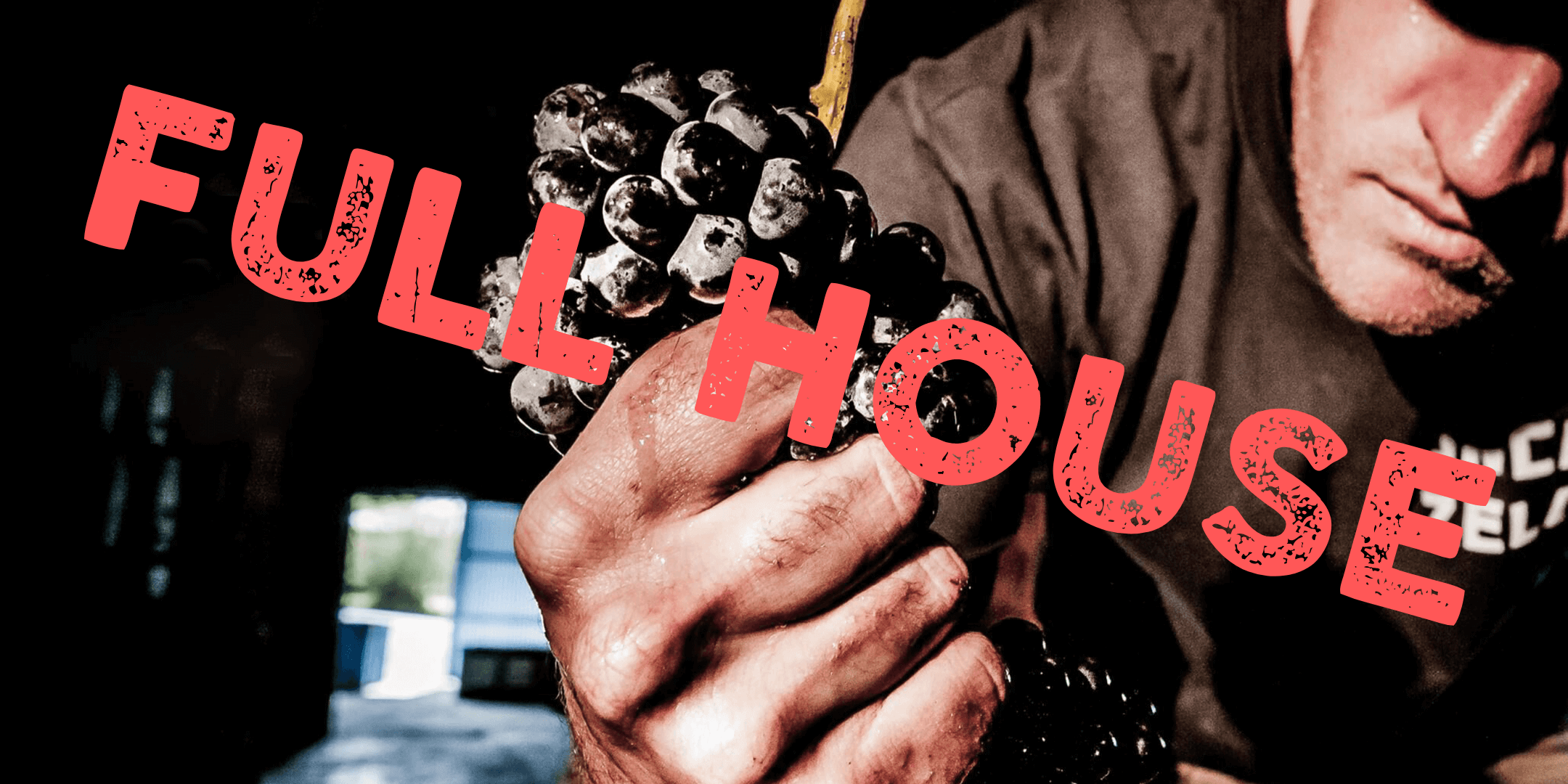 Tuesday 24 September – SUSTAINABLE ROCKSTARS OF AUSTRALIAN SOILS WITH UNICO ZELO
Noah from Unico Zelo hosted a class focused on sustainability, agriculture and honoured the unique sites and soils that South Australia has to offer. We tasted two favourite varietals Fiano and Nero d'Avola and learnt why they grow so well in our climate – with minimal irrigation and intervention.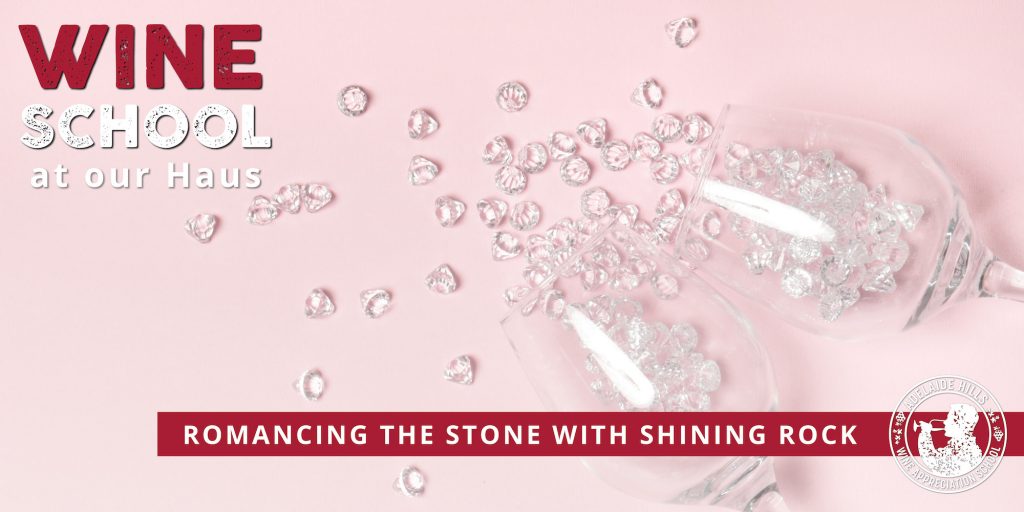 Tuesday 1 October – ROMANCING THE STONE WITH SHINING ROCK
BOOK NOW
Rocktober! Family wine producers, Darren and Nat from Shining Rock will share their story of how they fell in love with their Hills vineyard, and the famous Rhone Valley varieties of Shiraz (Syrah) and Viognier.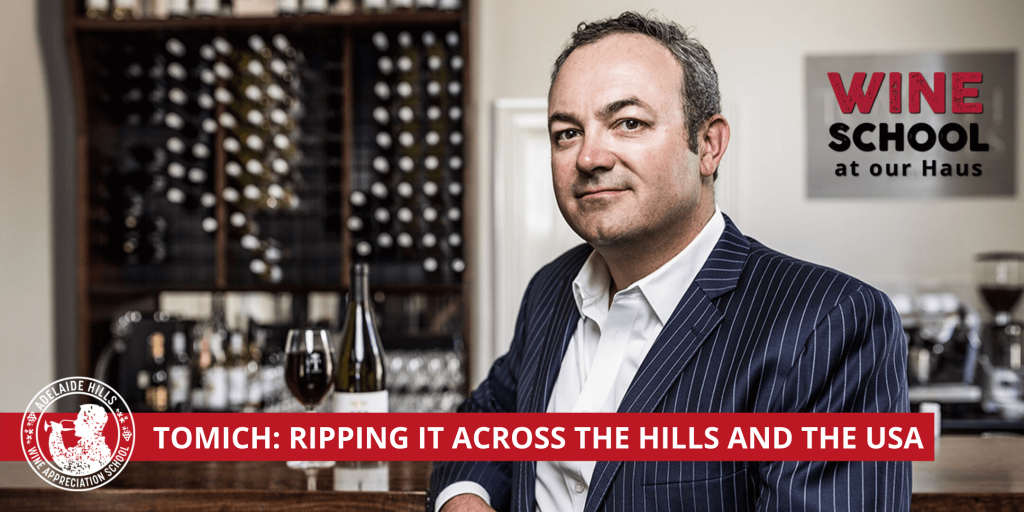 Tuesday 8 October – RIPPING IT ACROSS THE HILLS AND USA
BOOK NOW
Hear and taste the Tomich story – a coming together of a singular passion for sustainable farming from two hemispheres. Randal Tomich is a terrior guy, with 20 years devoted to planting vineyards across Australia and the USA. A love of vineyards and soils took him to California in 2007, the land of milk and honey! Revolutionising the way vineyards are planted in Napa and across western USA. With Partners Vineyard in Paso Robles, " The New Napa" they produce rich Cabernet and Zinfandel, full of Californian sunshine and richness at 16% plus!
Tuesday 15 October – SPRING RELEASES ARE WHEY COOL
BOOK NOW
Curd the chill with spring releases that are whey cool. With spring comes new release 2019 vintage wines, Let winemaker Greg Clack and Sheree Sullivan take you through the new release 2019 vintage wines paired with Udder Delights cheese and finish off with a vertical tasting of their single-vineyard chardonnay to get a spring in your step.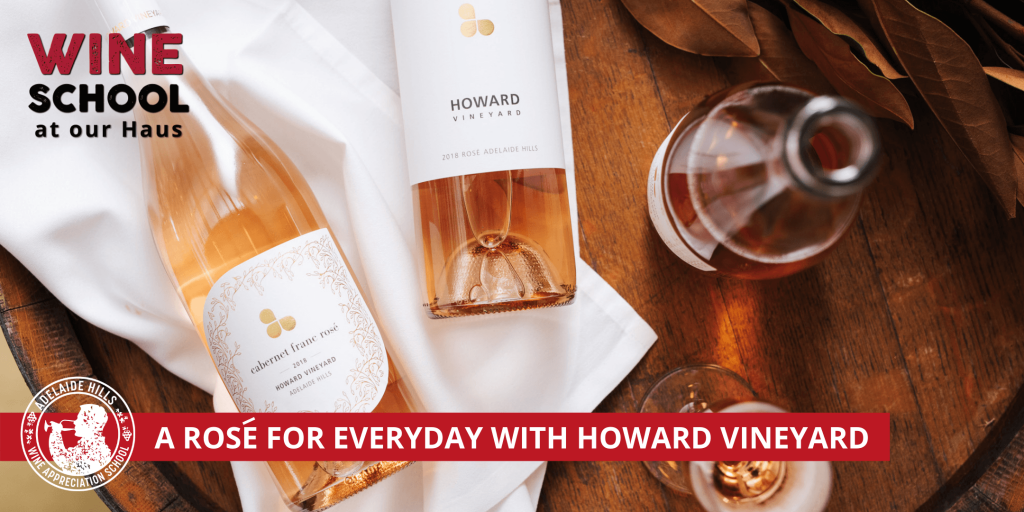 Tuesday 22 October – THINK PINK! HOWARD VINEYARD
BOOK NOW
A Rosé for Everyday! Think pink with the guys from Howard Vineyard. With three spectacular Rosé from the Adelaide Hills, each one made using a different grape variety each of which show of vineyard and regional expression. Get your lips around our back to back Adelaide Hills Wine Show Trophy-winning Cabernet Franc Rosé and experience our newest Rosé release; Sparkling Rosé. Learn why Rosé is the fastest growing wine category in Australia.
Stay tuned… more to come…
To register your interest to be notified FIRST for the next release of classes please email mikyla.gilbert@thehausgroup.com.au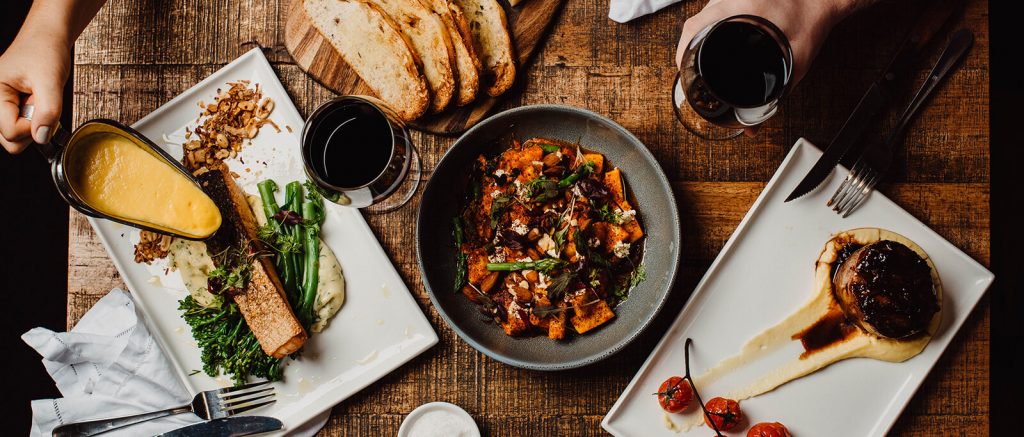 If you would like to stay on after the class for dinner at the Haus Restaurant please CLICK HERE to make a booking.
If you are visiting the region and would like to book accommodation please CLICK HERE.