Christmas will be here before we know it, plan your celebration at our Haus! 🎅🎄✨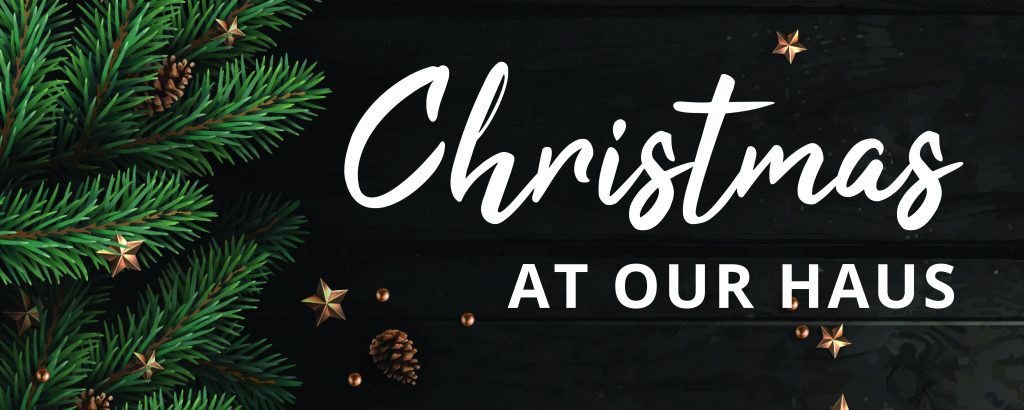 Gather your colleagues, friends or family and have your Christmas Party at our Haus. The Haus Restaurant have multiple spaces available for you to choose the perfect space for your Christmas function. From private rooms, outdoor courtyard, long tables and our Haus Conference & Events Centre is located right in the heart of Hahndorf and will be the perfect location for your Adelaide Hills Christmas party.
After the crazy year we have had, this year in particular, it is more important than ever to bring your team together to thank them for their hard work and to celebrate getting through this whirlwind of a year!
Catch up, celebrate and feast together. See our menu below.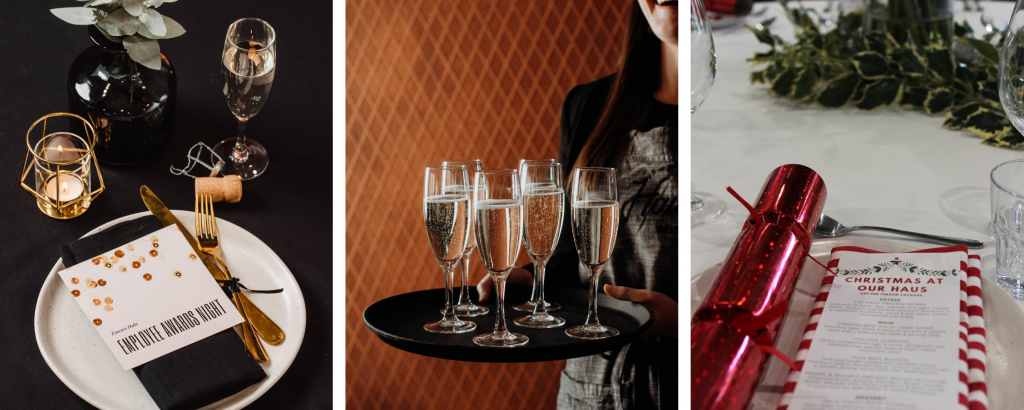 Entree
Your choice of two of the following
Fresh Coffin Bay Oysters – choose from Natural [GF] or Kilpatrick [GF]
Haus Classic Prawn Cocktail [GF] – Australian Black Tiger Prawns (3), crisp iceberg lettuce, fresh avocado, celery, chives & lime, topped with cocktail dressing
Kangaroo Island Free Range Pork Belly [ALT GF] – crispy pork belly, chilli & garlic sautéed bok choy, sticky soy glaze & sesame seeds
Haus Arancini Balls [GF, V] – pumpkin, sage and feta arancini balls (2) served with tomato sugo & crispy basil
Pan Fried Scallops [GF] – with cauliflower cream, tomato and cucumber salsa with balsamic vinaigrette
Main
Your choice of two of the following
Roast Turkey, Hahndorf wood-smoked Ham with seasoned vegetables and cranberry sauce [GF]
Strathalbyn 'Gold' Lamb Shank braised in a rosemary, tomato and red wine sauce served with creamy mash, green beans and dukkah [GF]
Grain Fed Porterhouse 100+ days grain fed flame grilled to your liking served with garlic and herb butter, steamed greens & creamy potato mash [GF]
Adelaide Hills Mushroom and Basil Pesto Fettuccine –  fettuccine pasta tossed with Adelaide Hills mushrooms, tomato, capsicum, onions, basil pesto, Barossa Valley olive oil & lemon topped with shaved grana padano [contains nuts] [V]
Atlantic Salmon – pan seared Atlantic salmon, potato purée, steamed greens, toasted peanut & shallot crumble served with citrus bearnaise sauce [contains peanuts] [GF]
Dessert
Your choice of two of the following
Traditional Christmas Pudding with a brandy sauce and served with fresh strawberries
Chocolate Marquise served with chilli and peanut praline, Haus-made honeycomb
Lemon Curd Tart topped with crushed Meringue served with mango and mint compote
Christmas at our Haus from $65pp for 2 courses of $80pp for 3 courses
Drink packages also available! We cater for dietary requirements. Speak with our Functions Team to find out more. Phone 8398 8994 or email functions@thehausgroup.com.au
STAY UP AT OUR HAUS
Don't want to drive home after the party?
Book a night or two at our Haus Accommodation and stay the night at our Haus!
The Studios by Haus, The Manna by Haus and The Lodge by Haus offer something for everyone, from spacious Studio Apartments to affordable twin share Superior Rooms.
Call 8388 1000 to speak to our friendly Guest Services team or click the link below.