The Adelaide Hills will play host to the annual Winter Reds Weekend on 26-28 July 2019, where guests will be welcomed at more than 30 cellar doors and associated venues offering an array of sumptuous wine and food events.
This year the multi-award-winning Haus Restaurant will host this brand new event…
FIRE UP Mi Casa Su Casa (My House is Your House by Haus)
Argentina to Adelaide Hills.
A fiery night at our Haus with Mordrelle Wines. Fire up your winter soul in the Adelaide Hills this July!
Meet Hahndorf winemaker, Martin Moran who moved to the Adelaide Hills from Argentina to make wine from the heart. Martin will share with you his family's story and play his Spanish guitar and sing songs from Argentina, making for a truly special event.
"From an early age, my grandfather used to take me through the vineyards at our family winery in Mendoza, Argentina," says Martin.
"I remember walking under the green canopies in the middle of the summer and have clear images of the happiness in his smiling face when he was cuddling and lifting me at three years old."
Even the labels feature the artwork Martin's father, Jose Luis Moran (1938 -2010). Heralding from Argentina's wine capital of Mendoza, he painted thousands of watercolours and oils in his lifetime.
"Our label is our opportunity to share with you the wonderful artistic skills of my father Jose Luis Moran and dedicating our wine to his memory," added Martin.
The team from the Haus Restaurant, led by Head Chef, Naman Tyagi will create a sensational menu to compliment the local wines. Sparkling on arrival with Empanadas made from an old Mordrelle Mendoza family recipe. Followed by a three-course Argentinean inspired dinner with a Mordrelle Adelaide Hills Pinot Noir and Syrah wine flight.
Meet winemaker Martin from Mordrelle Wines, Hahndorf who will host the FIRE UP Adelaide Hills Winter Reds Dinner at The Haus on Friday 26 July.
FIRE UP Mi Casa Su Casa (My House is Your House by Haus)
Argentina to Adelaide Hills.
Friday, July 26, 2019
6.30pm – 10.30pm
Tickets are $105pp + booking fee.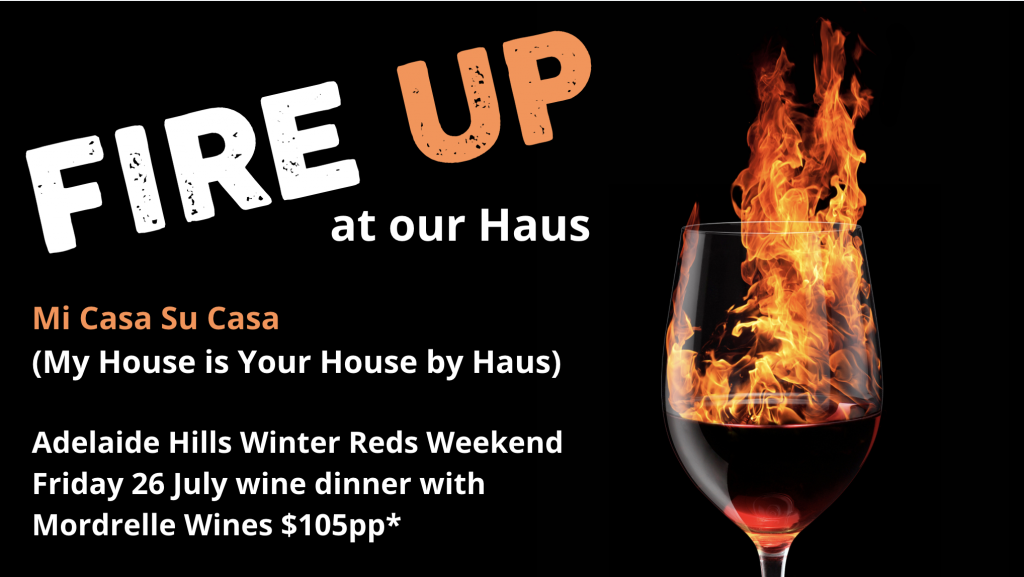 Events over the entire Adelaide Hills Winter Reds Weekend range from exclusive ticketed lunches, dinners and wine tastings for followers of fine food and wine, to relaxed venues offering rustic food, alluring wine, live entertainment and warming fires.
Many venues are also family friendly. Ticketed events sell out quickly and need to be booked in advance.
Admission to general events is free, and food, wine and other beverages can be purchased separately.
Check out the event guide with the full program here.
So shrug off your jacket, shake your scarf free and fire up your winter soul in the Adelaide Hills!

Winter is a wonderful season to visit Hahndorf and explore the historic village, indulge in the finest of regional food and wine, relax, and SNUGGLE UP!
We are offering a special Haus Hahndorf SNUGGLE UP Winter Getaway Package from $320 per couple, an experiential package that offers incredible value, including accommodation, dinner, breakfast, exclusive VIP wine tastings and much more.
Come & SNUGGLE UP!
Stay Dates:  1 June 2019 – 31 August 2019
 Plus these great bonuses valued at over $280…
2 x $30pp VIP tasting experience at The Lane Vineyard = $60 value
2 x $30ppVIP Amos tasting experience at Howard Vineyard = $60 value
1 x Bucket of golf balls + $40 lunch dining gift voucher for Maximilians = $55 value
Complimentary red wine flight – 5 wines – valued at $15pp when you purchase a $15 white wine flight at Somerled Wines Cellar Door = $30 value
Complimentary locally made tealight candle and free soap sample with a discount voucher from 3 Wishes Candle Barn = Valued at $5
Complimentary $15pp upgrade from a relaxation massage ($95pp) to a hot stone massage ($110pp) Hahndorf Massage = Value $30
$8pp discount on Meet the Distiller experience at Ambleside Distillery and a complimentary VIP tasting of limited-edition gin, not on public tasting = Value $25
That's over $600 value from $320 per couple.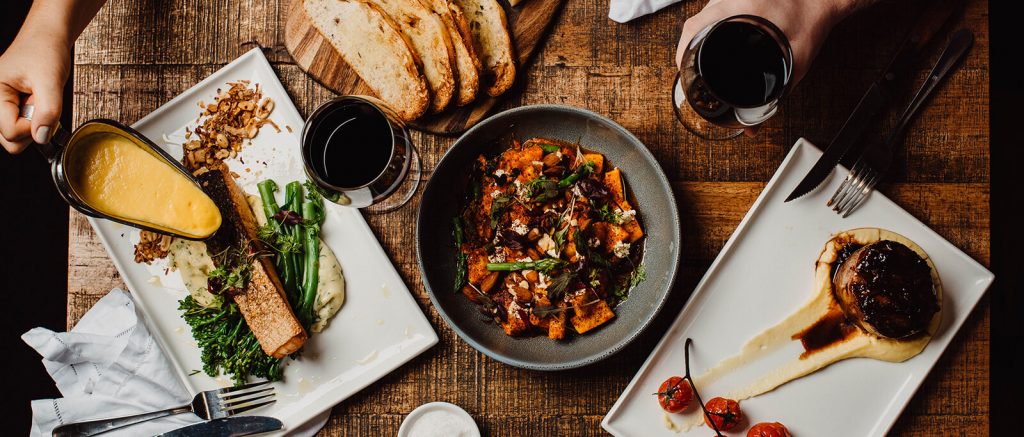 We aim to make your stay in Hahndorf and the Adelaide Hills, rich with the finest local food, wine, and of course award-winning service. We promise that you will go home well rested and fed, with a smile upon your face.